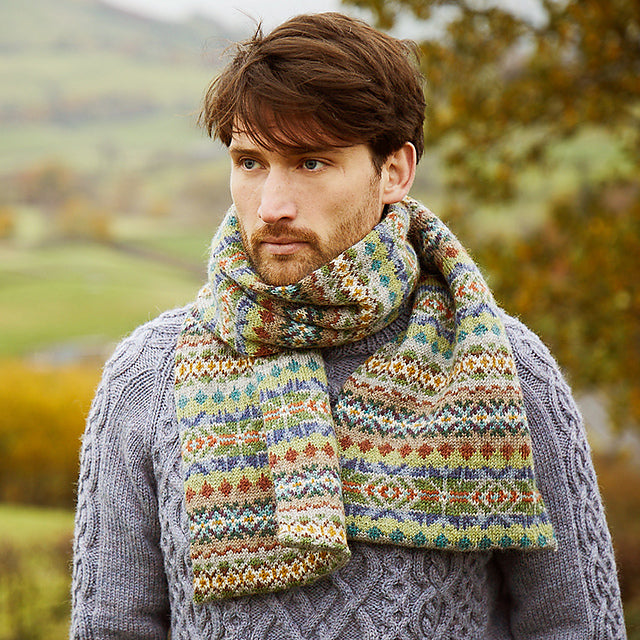 Swaledale
Pickup currently unavailable at Spinneriet Lindome
Spinneriet Lindome
Pickup currently not available
Spinnmästarevägen 2
437 34 Lindome
Sweden
+46708728585
The Swaledale Scarf from Cumbria is a recoloured version of the 'Burra Cowl' from the 'Shetland' collection. This traditionally inspired Fairisle design is knitted in the round using 15 colours. The colourway of the scarf makes it suitable for women and men. The kit includes the following: 25 x 25g balls of Marie Wallin British Breeds yarn.
 The completed scarf measures 26cm (10.25 in) wide when laid flat and 151.5 cm (59.75 in) long.
The kit contains the yarns but no pattern. You need the book Cumbria by Marie Wallin which contains 12 beautiful patterns. Language English
Splinters:
3.00mm 80 or 100cm
or
3.25mm 80 or 100cm
British Breeds is Marie Wallin's exclusive yarn. It is from four different British sheep breeds such as Blufaced Leicester, Exmoor Horn, Wensleydale, and Zwartbles.

Together, it gives the yarn strength, luster and softness with character. The yarn is spun in Devon by John Arbon.
It is available in 20 colors and sold in 25g/85m skeins.
You will find fantastic patterns in Marie Wallin's books too - "Wildwood" and in "Gentle"
Available in 25g skein, 85m/93 yds
Stitch density: 26-28m/29-34 v on 10 cm
Stickor: 3mm/3,25 mm