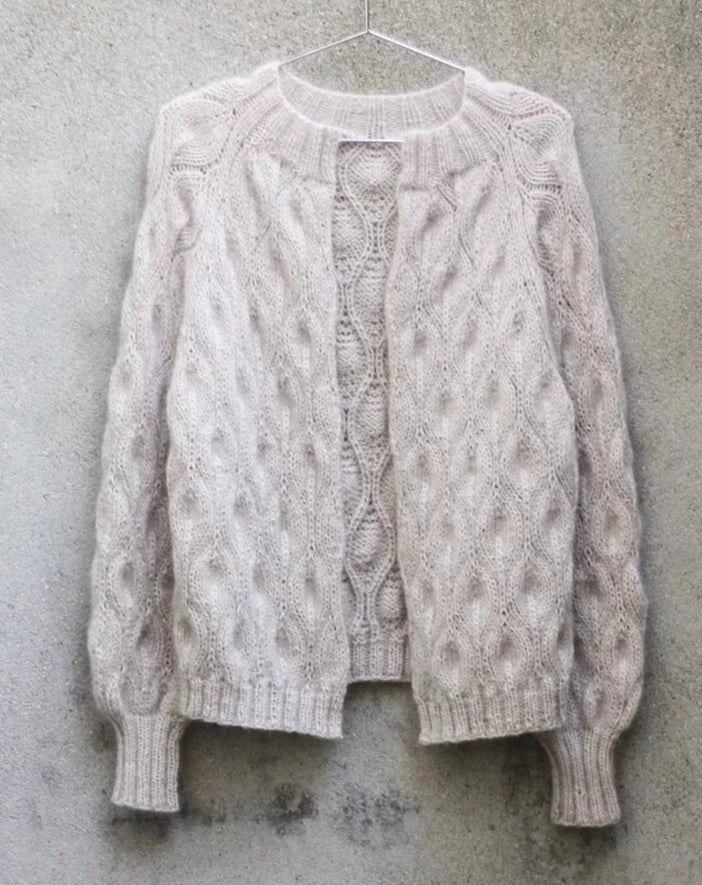 Olive Cardigan
Pickup currently unavailable at Spinneriet Lindome
Spinneriet Lindome
Pickup currently not available
Spinnmästarevägen 2
437 34 Lindome
Sweden
+46708728585
 OliveCardigan
Size:XS(S)M(L)XL(2XL)3XL(4XL)
Guiding bust measurements:76-83(84-91)92-99(100-107)108-116(117-127)128-139
(140-149)cm
Circumference: about 90(99)105(113)120(127)135(141)cm
Full length from the shoulders: about 54(55)60(61)61(67)67(72)cm
Inner sleeve length: about 41(43)43(38)38(38)38(38)cm
Knitting needles: Circular needles and double pointed needles 4.5mm, 5mm and 6.5(6) 6.5(6) 6.5(6) 6.5(6)mm
Knit strength: After washing and blocking Knit 6mm: 17mx24 rounds = 10x10cm in pattern (Diagram F)
Knit 6.5mm: 16mx22rounds=10x10cm pattern (DiagramF)
Yarn: 1 threadKnittingforOliveMerino (250m/50g) and
2trådarKnittingforOliveSoftSilkMohair(225m/25g)
The model in the picture is stickadiMerino and SoftSilkMohair-Marzipan
Yarn consumption: Merino: 200(200)200(250)250(250)300(300)g
SoftSilkMohair:175(200)200(225)250(275)300(325)g2 www.knittingforolive.dk - support@knittingforolive.dk © Knittingforolive 2021 - Pattern and the finished knitted product may only be used for private use. 
The OliveCardigan is a soft and feminine cardigan that is knitted and structured. The design of the cardigan is without buttonholes and buttonholes so that it can be worn open. If you want the cardigan's collar buttons to be small buttons and have a closure on the opposite side. The buttons can have a diameter of up to about 12mm.
The cardigan is knitted from top to bottom with the ribbing at the neck. Then you knit back and forth according to the diagram on the inside of the body and the sleeves are finished with the ribbing.
OliveCardigan is designed in such a way that the cardigan's measurement is larger than your bust measurement, a so-called positive ease.