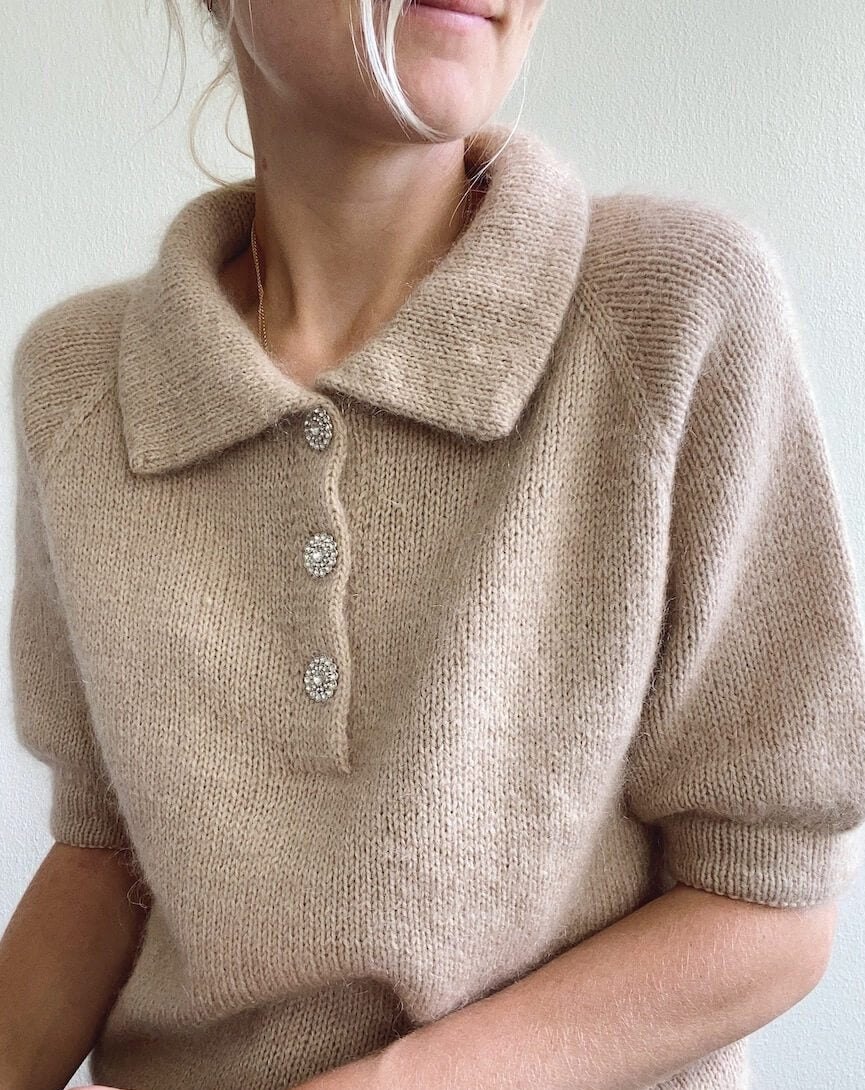 Maude Tee - PetiteKnit
In stock
Pickup available at Spinneriet Lindome
Usually ready within 24 hours
Spinneriet Lindome
Pickup available, usually ready within 24 hours
Spinnmästarevägen 2
437 34 Lindome
Sweden
+46708728585
This knitting pattern is in Swedish.
The Maude Tee is knitted from top to bottom in one piece. First the collar is knitted, then the yoke and finally the body and sleeves. The collar is knitted in the round in such a way that it appears to be stockinette stitched from both the front and back. The button cuffs of the blouse are knitted with double knitting, so that they appear as plain knit from both sides. The neckline is formed using shortened rounds. The yoke itself is knitted with raglan increases.
Note that the pattern uses techniques such as Judy's Magic Cast On, German Short Rows and double knitting, and several of the techniques are used parallel to each other - therefore the pattern should be read thoroughly and step by step, especially on the yoke, while knitting.
Knit a test patch to find the stitch size that gives you the right stitch strength.
Size guide
Maude Tee should have a range of motion (positive ease) of approx. 10 cm in relation to your bust measurement (ie the blouse should be approx. 10 cm larger than you in circumference). The sizes XS (S) M (L) XL (2XL) 3XL (4XL) 5 XL correspond to a bust measurement, measured on your own body, of 80-85 (85-90) 90-95 (95-100) 100-110 (110) -120) 120-130 (130-140) 140-150 cm. The measurements of the finished blouse are given on the front of the pattern. Note: These measurements only apply if the stick strength is maintained. Before you start knitting, measure yourself to determine which size fits you best. If you e.g. measures 90 cm around the bust (or the widest part of your body), you should knit a size S. A blouse in size S has an excess width of 99 cm and in the mentioned example will give a range of movement (positive ease) of 9 cm.
Sizes: XS (S) M (L) XL (2XL) 3XL (4XL) 5XL
Overall width of the blouse: 93 (99) 105 (110) 118 (128) 139 (149) 160 cm
Length: 53 (55) 56 (59) 62 (63) 64 (66) 68 cm (measured center back without the collar)
Stickfasthet: 21 stitches x 28 rounds in stockinette stitch on needles 4 mm with one thread of each quality knitted together = 10 x 10 cm after washing and blocking
Knitting suggestions: Circular needle 4 mm (40 cm, 2 pcs 80 and/or 100 cm), circular needle 3 mm (80 or 100 cm), double pointed needles 3 mm (if you are not knitting sleeves with Magic Loop technology)
Material: 200 (200-250) 250 (250) 250 (300) 300 (350) 350-400 g Sunday from Sandnes Garn (50 g = 235 m) knit togetherwith 100-125 (125) 125 (125) 125-150 (150-175) 175 (200) 200-225 g Silk Mohair from Isager Yarn (25 g = 212 m) or Thin Silk Mohair from Sandnes Garn (25 g = 212 m) or Brushed Lace from Mohair By Canard (25 g = 212 m), 3 buttons (ø = 18-20 mm)
Level of difficulty: ★ ★ ★ ★ ★ (5 out of 5).