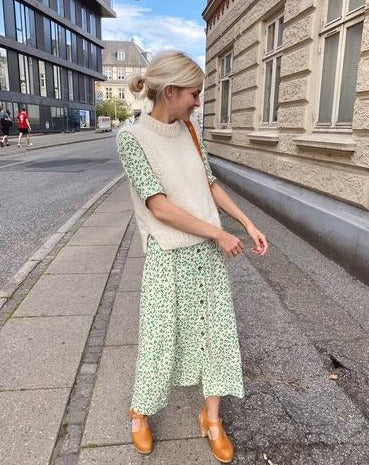 Holiday Slipover- Petite Knit
Pickup currently unavailable at Spinneriet Lindome
Holiday Slipover- Petite Knit
Spinneriet Lindome
Pickup currently not available
Spinnmästarevägen 2
437 34 Lindome
Sweden
+46708728585
This knitting pattern is in Swedish.
Holiday Slipover is knitted from top to bottom in stocking stitch. First the back piece is knitted, then the shoulder parts and the front piece, and finally the torso. At the bottom of the torso, a two-part elastic edge is knitted, where the back piece is knitted longer than the front elastic. Finally, elastic edges are knitted along the neck opening and armholes, which are finished with Italian cast off for a neat and tidy finish. Do a random test before you start.
Size guide
Holiday Slipover should have a range of motion (positive ease) of approx. 6 cm in relation to your bust measurement. The sizes XS (S) M (L) XL (2XL) 3XL (4XL) 5XL correspond to a bust measurement of 80-85 (85-90) 90-95 (95-100) 100-110 (110-120) 120-130 ( 130-140) 140-150 cm. Before you start knitting, measure yourself to determine which size fits you best. If you e.g. measures 90 cm around the bust (or the widest part of your body), you should knit a size S, which has an overall width of 96 cm. This gives a range of motion (positive ease) of 6 cm in the mentioned example.
Sizes: XS (S) M (L) XL (2XL) 3XL (4XL) 5XL
The dimensions of the slipover:
Overall width: 92 (96) 102 (106) 116 (126) 136 (146) 156 cm
Back width at top incl. elastic edge: 36 (36) 37 (39) 42 (43) 44 (44) 46 cm
Armhole depth: 27 (27) 28 (29) 30 (31) 31 (33) 34 cm
Length center back: 56 (57) 58 (59) 60 (62) 63 (63) 64 cm measured center back incl. elastic edge in the neck
Stickfasthet: 10 stitches x 14 rounds in stocking stitch on needles 10 mm in two strands of the thick yarn and one strand of silk mohair knitted together = 10 x 10 cm after washing and blocking
Knitting suggestions: Circular needle 10 mm (60, 80 or 100 cm), circular needle 9 mm (40 and 60 cm)
Material: 250-300 (300) 300 (350) 350 (400) 450 (450) 500 g Snowflake from CaMaRose (50 g = 110 m) or Alpaca 3 from Isager (50 g = 125 m) or 200-250 (250) 250 (250) 300 (300-350) 350 (350-400) 400-450 g Kos from Sandnes Yarn (50 g = 150 m) together with 50 (50) 50 (50) 50 (50) 50 (75) 75 g Silk Mohair from Isager (25 g = 212 m) or Thin Silk Mohair from Sandnes Garn (25 g = 212 m) or Tilia from Filcolana (25 g = 210 m) or Brushed Lace från Mohair By Canard (25 g = 212 m) or Kid Seta from Gepard Yarn (25 g = 212 m)
Level of difficulty: ★ ★ (2 out of 5)