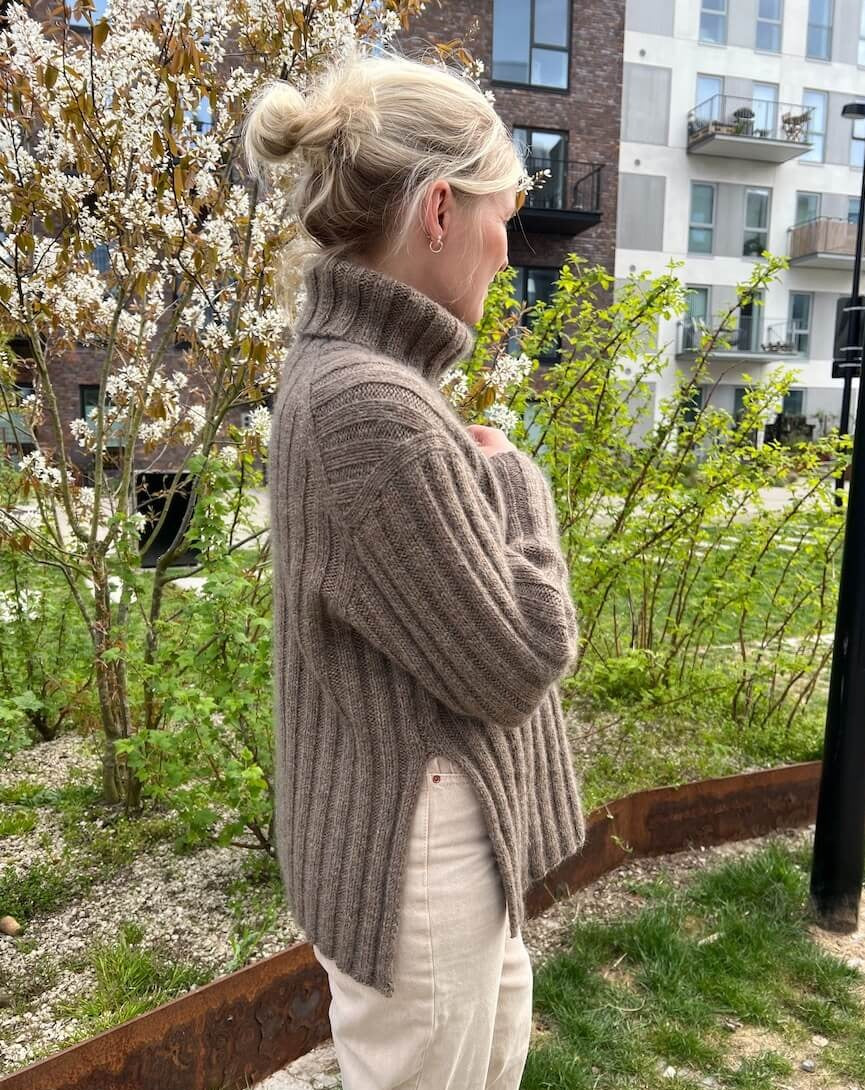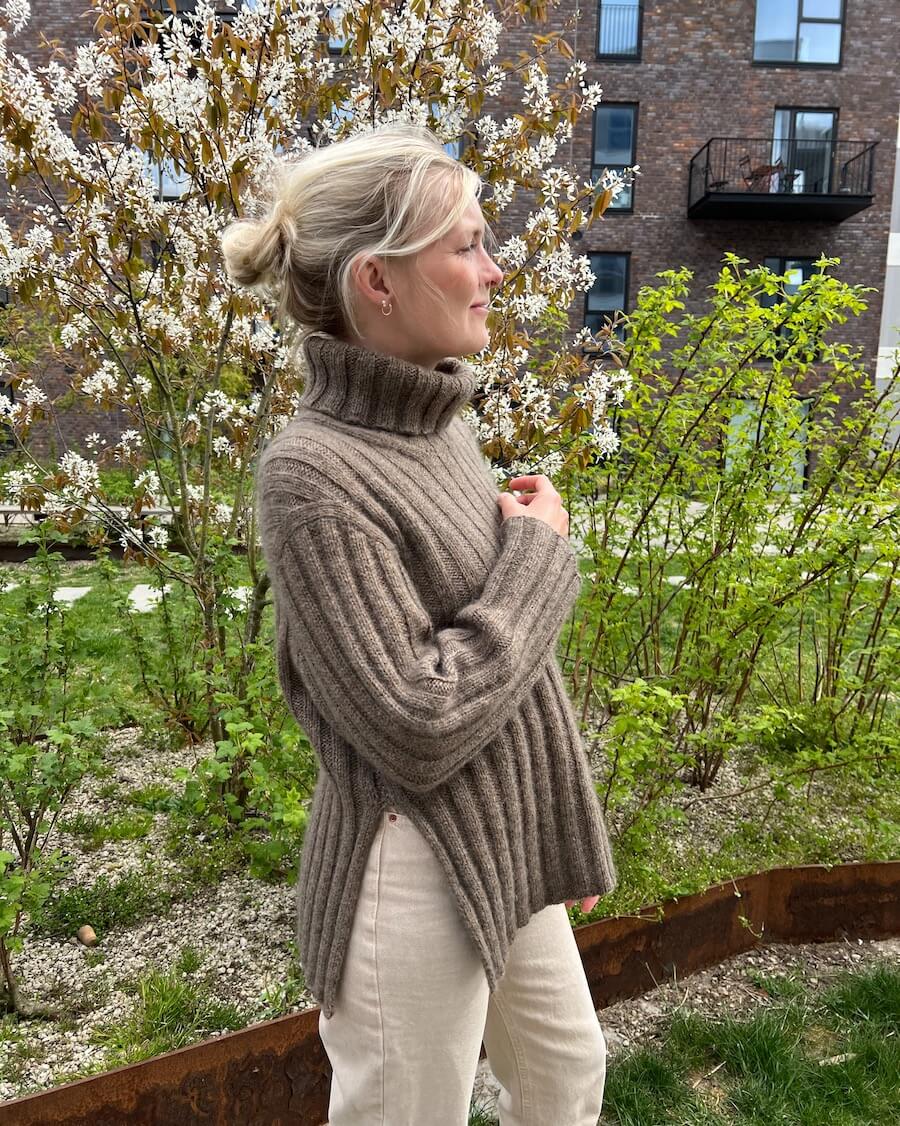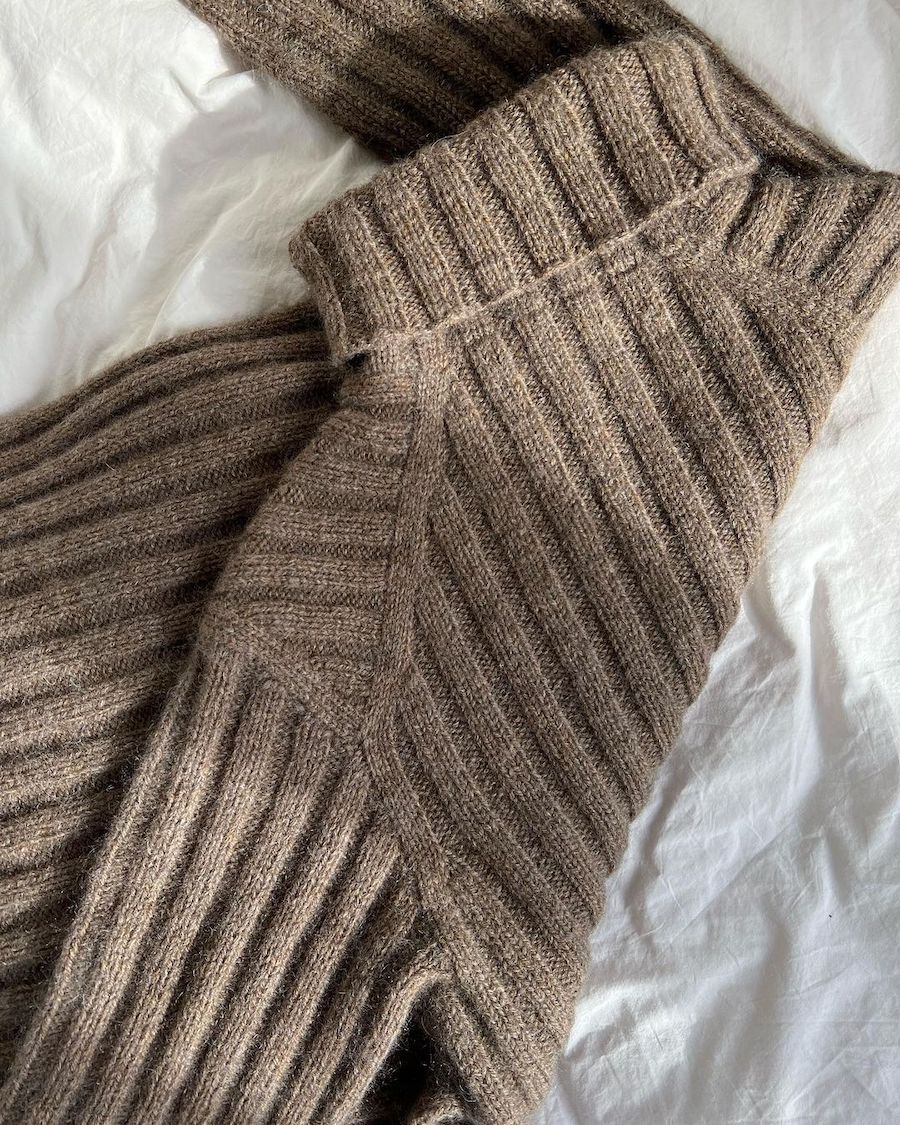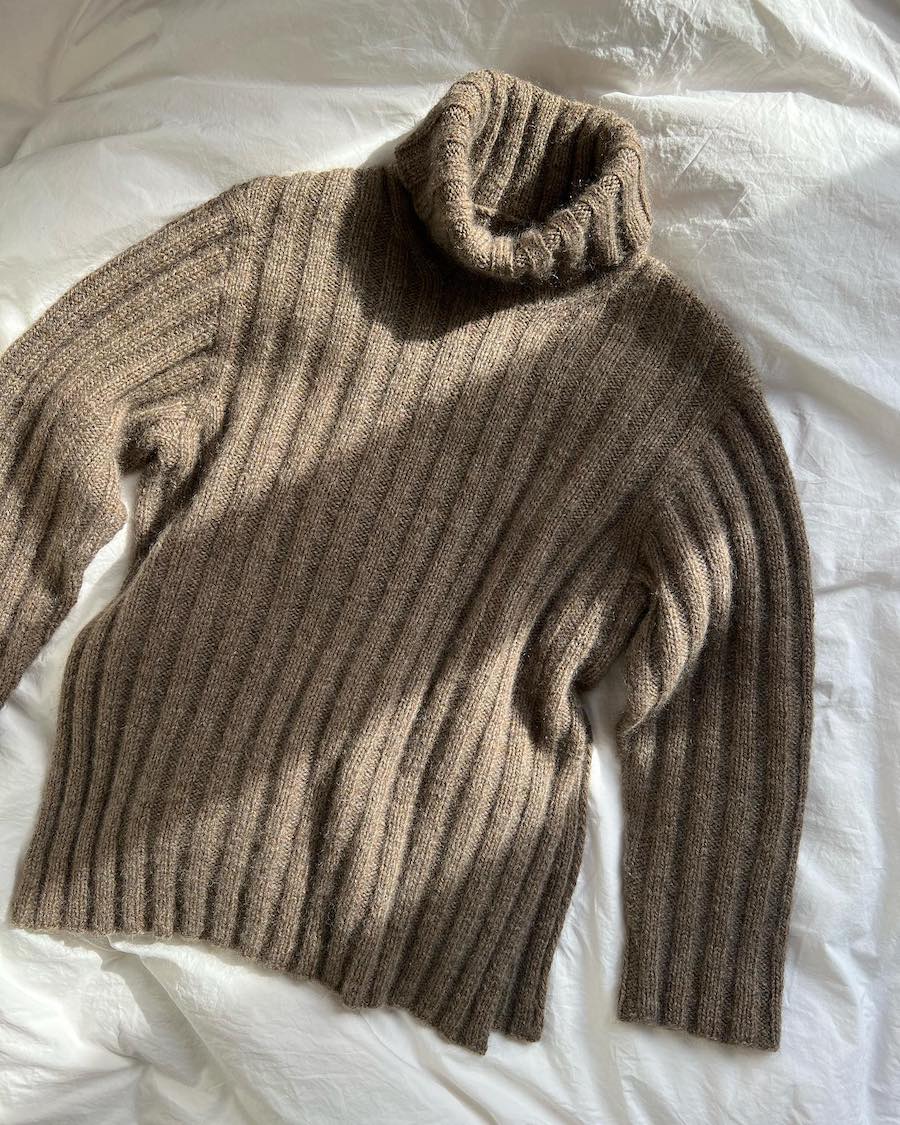 Hazel Sweater
Pickup currently unavailable at Spinneriet Lindome
Spinneriet Lindome
Pickup currently not available
Spinnmästarevägen 2
437 34 Lindome
Sweden
+46708728585
This knitting pattern is in Swedish.

Can be perfectly knitted in 1 thread Heavy Merino together with 1 thread Soft Silk Mohair.
Hazel Sweater is knitted from top to bottom in elastic. First, the back is knitted with increases. Next, the shoulders are knitted, which are shaped with the help of decreases and then brought together to knit the front piece. The front piece is joined in turn with the back to knit the torso. The torso is first knitted in the round and then divided into a front and a back piece, so that a long slit is formed in the side. The slit starts approximately at the height of the hip bone. The sleeves are shaped using shortened rounds, before being knitted around in elastic. The polo collar of the neck is finally knitted in elastic. The pattern also includes instructions for knitting a short model without a slit (on the front of the pattern the yarn consumption for the long model with a slit is indicated).
When you knit the sweater, it will have a tendency to shrink. This is evened out after washing and blocking. When you measure as you work, you should straighten your knitting to the correct stitch strength.
Size guide
Hazel Sweater should have a range of motion (positive ease) of approx. 16-24 cm in relation to your bust measurement. The sizes XS (S) M (L) XL (2XL) 3XL (4XL) 5XL correspond to a bust measurement, measured directly on the body, of 80-85 (85-90) 90-95 (95-100) 100-110 (110- 120) 120-130 (130-140) 140-150 cm. The measurements of the finished sweater are given on the front of the pattern. Measure yourself before you start knitting to determine which size will fit you best. If you e.g. measures 90 cm around the bust (or the widest part of your body), you should knit a size S. A sweater in size S has an upper width of 108 cm and in the mentioned example will give a range of motion (positive ease) of 18 cm.
Sizes: XS (S) M (L) XL (2XL) 3XL (4XL) 5XL
Overall width of the jersey: 108 (108) 120 (120) 126 (138) 144 (156) 162 cm
Length: 62 (65) 67 (68) 70 (71) 74 (76) 77 cm
Stickfasthet: 20 stitches x 30 rows in elastic (K3, P3) on needles 4 mm = 10 x 10 cm after washing and blocking
Knitting suggestions: Circular needle 4 mm (40, 60, 80 and/or 100 cm), circular needle 3.5 mm (40 cm)
Material: 450 (500) 550 (550-600) 600 (600-650) 650 (700) 700-750 g Jensen from Isager Yarn (50 g = 125 m) or 300-350 (350) 350-400 (400) 400-450 (450) 450-500 (500) 550 g Pernilla från Filcolana (50 g = 175 m) knit together with 125-150 (150) 150-175 (175) 175-200 (200) 200 (200-225) 225 g Silk Mohair from Isager Yarn (25 g = 212 m) or Soft Silk Mohair från Knitting for Olive (25 g = 225 m) or Brushed Lace från Mohair by Canard (25 g = 210 m)
Level of difficulty: ★ ★ ★ ★ (4 out of 5).