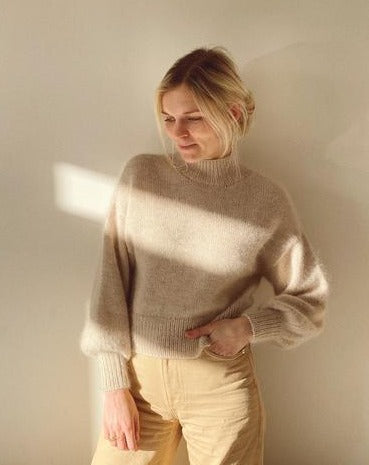 Ballongsweater - Petite Knit
In stock
Pickup available at Spinneriet Lindome
Usually ready within 24 hours
Ballongsweater - Petite Knit
Spinneriet Lindome
Pickup available, usually ready within 24 hours
Spinnmästarevägen 2
437 34 Lindome
Sweden
+46708728585
This knitting pattern is in Swedish from Petit Knit. It works great with a thread of merino oche single thread of Soft Silk Mohair.
The balloon sweater has balloon sleeves, which start far down the shoulders and are marked with a tight elastic at the wrist. The balloon sweater is knitted from top to bottom. At the beginning of the yoke, shoulder increases are knitted, while at the same time shortened rounds are knitted to shape the neckline. After this, the front and back pieces are knitted separately (front and back in stocking stitch). Under the armhole, the work is brought together and the rest of the body is knitted in the round on circular needle. Stitches are picked up for sleeves, which are also knitted in the round on circular needles and finally on double pointed needles (or with the Magic Loop technique). The assembly-free balloon sweater is removed from the yarn ends to be attached.
Do a sample before you start. Remember to wash and block the swatch to see if the knit strength changes after washing.
Size guide
Balloon sweaters should have a range of motion (positive ease) of around 10-15 cm in relation to your bust measurement. The sizes XS (S) M (L) XL (2XL) correspond to a bust measurement measured on your body of 80-85 (85-90) 90-95 (95-100) 100-110 (110-120) cm. The measurements of the finished sweater are indicated on the front of the pattern (note that these measurements are only correct if the knit strength is respected. Measure yourself, before you start knitting, to assess which size fits you best. If you, for example, measure 90 cm around the bust (or the widest part of your body), you should knit a size S.
A shirt in size S has an overall width of 101 cm and in the mentioned example will give a range of motion (positive ease) of 11 cm.
Sizes: XS (S) M (L) XL (2XL)
Measurements of the sweater: Overall width under armhole: 95 (101) 107 (112) 122 (130) cm
Length: 49 (51) 53 (56) 58 (58) cm (measured in the middle of the back excl. elastic in the neck)
Stickfasthet: 21 stitches x 28 rounds in stockinette stitch on needles 4 mm = 10 x 10 cm
Knitting suggestions: Circular needle 3 mm (40 and 80 or 100 cm), circular needle 4 mm (40, 60 and 80 or 100 cm), double pointed needle 3 mm
Material: 250 (300) 300 (350) 350 (350-400) g Arwetta from Filcolana (50 g = 210 m) or Sunday from Sandnes Garn (50 g = 235 m) knit together with 125 (150) 150 (175) 175 (175-200) g Kid Seta from Gepard (25 g = 210 m) or Tilia from Filcolana (25 g = 210 m) or Thin Silk Mohair from Sandnes Garn (25 g = 212 m) or Silk Mohair from Isager (25 g = 210 m)
Level of difficulty: ★ ★ ★ ★ ★ (5 out of 5).
See the classification of difficulty here.
The pattern is sent as a PDF file to your e-mail address.
The white Balloon Sweater is knitted in Arwetta (marzipan) from Filcolana and Silk Mohair (color 0) from Isager Garn.
The brown Balloon sweater in the picture is knitted in Arwetta in the color sand from Filcolana (971) and Kid Seta from Gepard Garn in the color beige/grey (148).